Integrated Sports Registration and Administration Solutions
iSport Solutions takes care of your end-to-end membership registration and customer order processes. Whether you deal with annual membership renewal or one-time event registrations, we have the right solution for all your needs. All of our solutions are integrated directly into your website - you always retain your organization's identity and branding. We ensure that our application supports your business process - never the other way around. We strive to give your members and customers the best online experience possible.
Ease of use for members, customers, and administrators alike is our goal!
Member Registration
We provide simple and easy-to-use membership registration. Personal information and registration information is conveniently captured on one page, making the sign-up process very simple and user-friendly.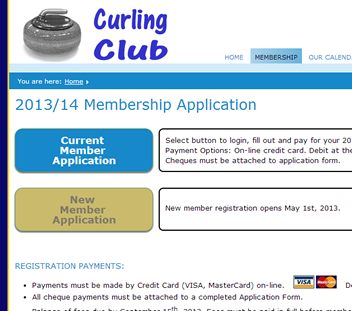 Take control of your membership application process! You decide when to open the registration process for existing and new members.
The administration page for the registration pages allow you to set all your important registration parameters. For example, you can give your existing members a chance to retain their sports selections by opening registration just for them a month before new members can sign up.
Simply edit the date that registration is opened for new membership registrations - and the registration is unlocked automatically on that date. Once the parameters are set, you can go back to enjoying your sport!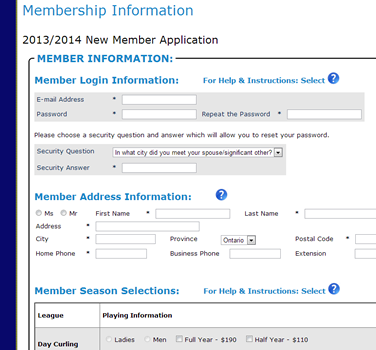 Before each season starts, you can provide easy online membership registration for new members.
Based on your requirements, we set up a simple form that enables the new member to add all her account information and sign-up details. The new member enters her login credentials (login email address, password, and security question and answer for password reset), her address information, and any selection necessary to register her for the upcoming season.
The new member's information is saved in your database and available for team and league assignments. The personal information is secured with a userid and password combination. In subsequent years the new member can simply log on and saves herself time by not having to fill out all the personal information again.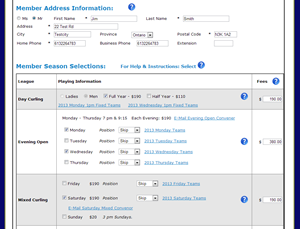 Once a member has been added to your database, she can register every year without having to re-enter her information again and again. Last season's selections are automatically pre-filled, making the registration process very simple and easy.
As part of our integration effort of getting your registration and payment process on-line, we pre-populate your member and customer database, allowing your members and customers immediate access to their information - with individual password protection, of course!
Course Registration
In addition to membership registration, we also offer a full e-commerce module with shopping cart support and complete checkout procedure including online payment which utilizes hosted payment pages from merchant service providers such as Chase-Paymentech and Moneris. This setup is useful when you have several items to choose from. This setup is very useful for organizations that offer courses and summer camps.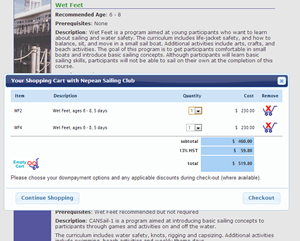 Signing up for courses using our e-commerce module is easy - when customers browse your course pages, they simply click on the 'Add to Cart' button for all the courses they wish to take, and then proceed to the check-out. The process is the same as with other online purchasing sites - now you can register for courses just as easily as if you were buying a book.
If you offer courses or summer camps, then you know how important it is to make the registration process as easy as possible! Your customers are browsing your web site at all hours of the day - don't they deserve to sign up whenever they want to? Don't miss out on course revenue just because your office is closed!
All your course information is stored in your database. Your customer-facing pages always display the latest information - course dates and prices, and any enrolment levels. Once a course is fully booked, the 'Add-to-Shopping Cart' icon is replaced with a full status message.
All the course information is controlled by you directly. We help you set up the initial course lign-up, and after that you can use the administration pages at your convenience to update existing courses or add new courses.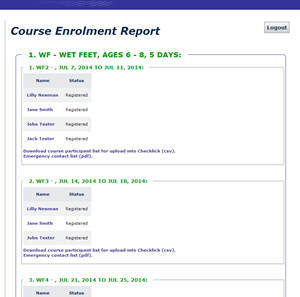 The course enrolment administration page lists all the registrants for your courses.
The list is updated automatically whenever somebody signs up online, with a 'Registered' status assigned to the course entry.
The course enrolment report can be downloaded as a PDF file for distribution to your instructors or coaches.
We also provide a CSV download option for sailing schools that offer Sail Canada certified courses. The CSV file contains course registration information that can be used for uploading this information into Checkclick.
Online Payments
We integrate online payments into your registration and checkout process. Payment information is passed to your merchant service provider's hosted payment page, ensuring that proper amounts are charged and applied to the customer's credit card. We support immediate deposit with scheduled balance payments at a later date. You can set up promotional discounts for one or more course combinations, restrict these discounts to a set period of time, and specify the discount in percentage or whole amounts.